Do you need antibiotics medicine but don't know where to buy them? Then this article is for you. Read it carefully. Do you know about Florencia's healthcare? It is one of the leading Pharmaceutical Manufacturers companies in India. It's a famous pharmaceutical company in Noida. They use a state-of-the-art manufacturing facility situated in Himachal Pradesh. They are perfect at manufacturing, packaging, and delivering antibiotic medicines to customers. They are not like other normal companies which you see in your daily life! Their manufacturing facility is certified by WHO-cGMP and fully compliant with UK MHRA, EU GMP & USFDA. They make a commitment to customers for good quality and productivity. In over 10+ countries across the world, their network of partners & customers is huge. Florencia Healthcare is a WHO cGMP Manufacturer In India. In 2012 This company started with one vision of becoming a dedicated healthcare company in India for the improvement of human health. Florencia Healthcare has made a wonderful reputation in the International Market for being the best provider of Quality Products at Affordable Prices, Florencia Healthcare is an anticancer Manufacturer in India & Antibiotics manufacturer in India.
Florencia Healthcare is a perfect example of Innovativeness and Competitiveness. This is the most recommended pharma company in Noida. They have a Will to succeed against all odds. Florencia Healthcare wants to achieve a leading position in the International market. They are trying hard to build a strong business centered around the core values & culture of the organization. If you want the best antibiotic medicines then you must contact a healthcare company in Noida.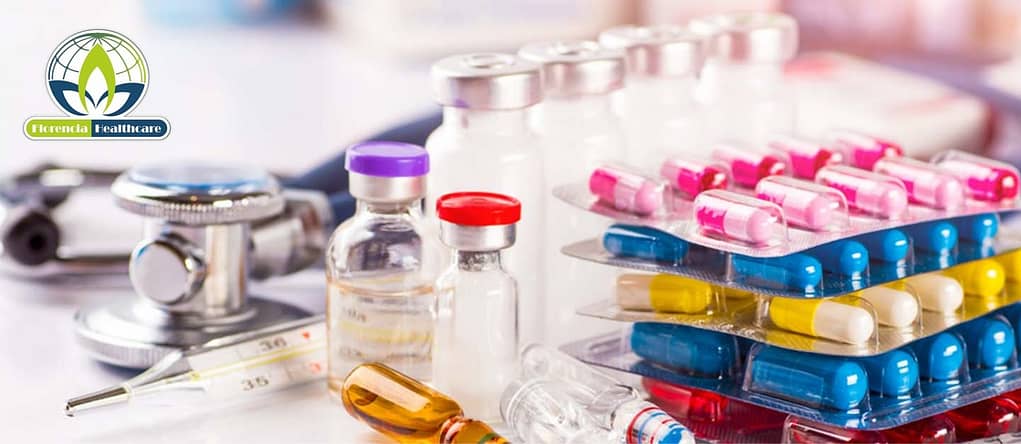 How do antibiotics work?
There are different types of antibiotics in the world and work in two ways:
A bactericidal antibiotic kills the bacteria.

A bacteriostatic stops bacteria from being multiple in counting.
Antibiotics are most powerful and very ineffective against viruses. For the treatment of a bacterial infection, a doctor prescribes antibiotics. Antibiotics do not work against the common cold and flu. If people overuse antibiotics then bacteria might become resistant and antibiotics become less effective. To treat a wide range of infections a doctor can prescribe a broad-spectrum antibiotic. Narrow-spectrum antibiotics are effective against only a few types of bacteria. Some antibiotics are made for attacking aerobic bacteria and other antibiotics work against anaerobic bacteria. Anaerobic bacteria do not need oxygen but aerobic bacteria need oxygen. In the 'prophylactic' use of antibiotics, people commonly use antibiotics before orthopedic surgery.
How to use Antibiotics?
Never stop a course of antibiotics halfway without your doctor's permission. Usually, patients take antibiotics by mouth but in some cases, doctors can administer them by injection to the part of the body.
Most antibiotics start fighting infection within a few hours. Complete the whole course of medication for best results. If a patient stops the course of medication before the last day then it increases the risk that the bacteria will become resistant. The ones that survive will have had some exposure to the antibiotic. If you see an improvement in symptoms then also you need to complete the course of antibiotic treatment. Never take any antibiotics with foods and drinks. Always take medicine after 2 hours of eating meals. Follow the instructions correctly given by your doctor. People taking antibiotics should not drink alcohol. Patients should avoid dairy products.
Florencia Healthcare is a Pharmaceutical Company in Noida. This healthcare is known as WHO cGMP Manufacturer In India. This is famous as an Antibiotics Manufacturer in India. This is a well-known and respected Pharma Company in Noida. This is one of the best Healthcare Company in Noida.